GDS ColorFuse™ by Experience Glass for Kitchen and Bathroom Countertops
Details

Written by

Experience Glass

Hits: 6816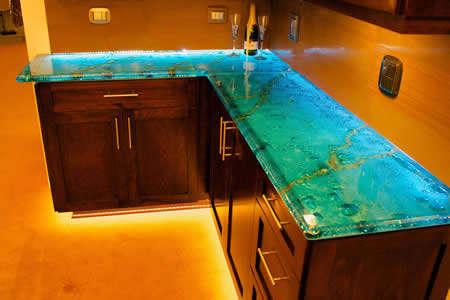 Dazzling Solid Glass Kitchen and Bathroom Countertops
Experience Glass opened their doors in 1983, and though they specialize in cast/slumped glass, they are masters of all types of glass production. Their glass has been utilized for a wide variety of applications, and it can be installed in residential as well as commercial settings. Their most popular product is GDS Colorfuse™ Glass.
So what is Colorfuse™?
GDS Colorfuse™ Glass is a combination of glass fusing, casting and painting. The colorants used are made of 100% glass, but it's the secret ingredients that create the fascinating bubbles, iridescent sparkles and other beautiful effects. Even the best photos cannot replicate the breathtaking look of GDS Colorfuse™ glass as well as seeing it in person.
What qualifies as "thick glass"?
In general any glass over 1/2" thick can be considered "thick glass". Their Aqua Clear and Crystal Clear glass countertops are available in 1/2″, 3/4″, 1″, 1-1/4″, 1-1/2″, 2″, 2-1/2″ and 3″. Thicker kitchen and bathroom countertops are available upon special request. Colorfuse™ countertops are available in standard sizes1-1/4″, 1-1/2″, 2″, 2-1/2″, and 3″. Thicker Colorfuse™ countertops are available upon special request.
So how strong is it?
In most cases a custom glass countertop is actually stronger than granite or stone, as it is a much denser and more structurally consistent material. Imagine a slab of granite at a quarter (¼") inch thick. It would break with significantly less force than ¼" glass, due to the pores, veins, and imperfections in the stone. On the other hand, a glass bar top, tabletop or countertop at 1″– 3″ thick is quite a substantial piece of material. Countertops with 3/4″ or less thickness can be tempered to harden the surface, creating a safer, stronger piece.
What Surfaces Can I Use Glass For?
Their kiln fired glass products can incorporate various combinations of slump glass, etched (sandblasted) glass, ColorFuse™ technology, PermaCoat, MetalliCoat, and backlighting for a unique and durable finish, delivering strength and easy cleanup properties in a wide variety of applications such as:
Thick glass kitchen countertops, with or without matching backsplash
Backlit kitchen or bathroom countertops using LED lights
Colored glass bar tops and islands with ColorFuse™ technology, PermaCoat, or MetalliCoat finish
Free standing glass tabletops with a variety of edge details, textures, and patterns
In addition to their own in-house creations, they often work with kitchen designers, interior designers, and architects to design a custom look that is sure to impress.
For more information please visit their website: https://experienceglass.com